GetResponse claims to be the easiest newsletter tool on the market with a wide range of professional features. The company, based in Poland, serves over 1 billion subscribers in 183 countries each month. While there are many positive reviews of GetResponse online, our review is based on a more thorough approach and our experience with multiple marketing automation tools. GetResponse offers a variety of features, including custom landing pages and advanced automation and reporting. The Conversion Funnel feature, which includes landing pages, is particularly useful for lead generation and can even serve as an online store with payment processing capabilities. GetResponse's marketing automation is also highly effective and user-friendly, allowing for advanced automated campaigns based on triggers such as sales or location. In addition, there are many detailed templates available to help users get started.
GetResponse has recently acquired Recostream, a company specializing in AI and machine learning-powered personalized recommendations technology. This means that GetResponse now offers AI product recommendations based on the analysis of website visitor behavior, preferences, needs, and habits. In addition, higher-tier plans also include access to a webinar feature and an inbuilt CRM – features that are not commonly offered by email marketing platforms. These added features piqued our interest and prompted us to conduct a more in-depth review of GetResponse.
GetResponse is a comprehensive marketing platform that caters to ecommerce businesses. It offers a range of tools, including email marketing, a landing page builder, a CRM, and automation features. We consider GetResponse to be a good value, especially for its entry-level plan that includes autoresponders, basic segmentation, and other features. The platform also offers a free forever plan that includes a landing page/website builder, signup forms, and popups. Additionally, GetResponse offers a 50% discount to non-governmental organizations.

Try GetResponse (receive a special 10% lifetime discount through this link)
The above mentioned features make GetResponse a strong contender as a Mailchimp alternative. If you wish to compare the two tools, you can refer to our GetResponse vs Mailchimp guide.
GetResponse Pricing
---
GetResponse offers four paid plans with different features: Email Marketing, Marketing Automation, Ecommerce Marketing, and MAX. There is also a free email marketing plan called GetResponse Free for users with fewer than 500 subscribers, which allows for up to 2500 newsletters per month. The pricing for these plans is generally in the mid-range compared to other email marketing software, but certain features such as marketing automation or ecommerce features can increase the cost. The MAX category includes two plans, 'Max' and 'Max2', which are designed for enterprise-level companies with advanced needs. To learn more about these plans and determine the best options for your business, you can contact GetResponse's customer support team.
Additional information can be found on the GetResponse pricing page.
Pros and Cons
I have been using GetResponse for marketing purposes for a long time and it is a staple in my toolkit. One of the main reasons I continue to use it is because it is easy to use and has a reasonable pricing structure. However, here are some pros and cons of GetResponse based on my personal experience:
Pros
Cons
Robust, all-in-one eCommerce and email marketing platform
Some automations require higher-tier plans
Industry-leading conversion funnel features
Templates can be kind of pedestrian
Easy to use
Not the "latest" marketing tool
Excellent automation features
Excellent integrations with social media and eCommerce platforms
Friendly and accessible customer service
Affordable
Try GetResponse (receive a special 10% lifetime discount through this link)
Should you use GetResponse as your newsletter service provider?
Recommended if:
Your goal is to acquire potential customers: GetResponse stands out among newsletter tools as a tool specifically designed for inbound marketing. It offers customizable signup forms with the option to include Recaptcha to prevent bot attacks. Additionally, it includes a basic landing page editor, Google Analytics integration, and advanced automation for segmenting and sending emails, making it easy to capture and nurture new leads. Another unique feature is the ability to host live and on-demand webinars. The Conversion Funnel feature allows users to efficiently track and optimize their marketing efforts.
You are an ecommerce business: GetResponse is a great tool for online store owners as it provides various features that can help increase sales, such as integrations with popular ecommerce platforms like Magento and Shopify, abandoned cart campaigns, personalized email content based on customer purchases, and sales tracking. Additionally, it uses artificial intelligence to suggest products to website visitors based on their behavior, preferences, needs, and habits. Another useful feature is the Conversion funnel, which allows you to set up and optimize your sales funnels with landing pages, social media campaigns, webinars, and more.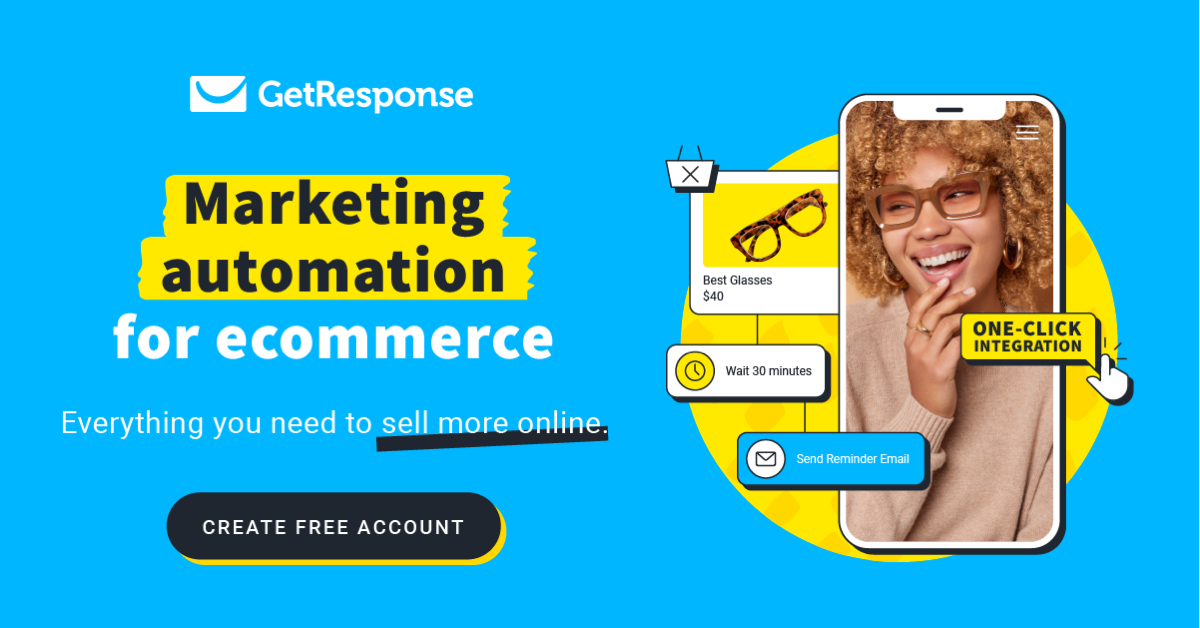 Advanced automation is required: GetResponse's workflow builder stood out to us because it allows you to create automations for various tasks such as sending emails, assigning lead scores, tagging contacts, segmenting data, and updating information (only available on more expensive plans).
You need detailed reports: With GetResponse, you have the ability to thoroughly analyze your data, including information on contacts, newsletters, and automations. The updated interface is visually appealing and user-friendly.
Not recommended if:
Your deliverability rates must be strong and reliable: As an email marketer, it is crucial to consider deliverability. While GetResponse has some areas to improve upon according to our deliverability tests, it is important to note that deliverability rates can fluctuate. Therefore, it is advisable to continuously monitor them.
An In-Depth Examination of the Top Features of GetResponse
GetResponse offers a variety of professional features that are worth examining in more detail to determine their strengths and potential areas for improvement. Here is a breakdown:
Ecommerce Tools
By using GetResponse, you can easily connect your ecommerce platforms such as Magento, Prestashop, and Shopify through direct integrations. This platform has a specific section for ecommerce tools, which includes your online stores, orders, promotional emails, and promo codes.
Promo Codes
The promo codes you currently utilize on your ecommerce platform can also be utilized in your newsletters or automated messages through the use of the drag and drop email builder. Simply add them directly to the desired message.
Segmentation
Segmentation at an advanced level allows you to design highly targeted marketing strategies based on a customer's purchase history, behavior on websites, and other factors. These conditions may include location, tags, lead scoring, lead magnets, conversion funnels, and events, among others. Other email marketing tools do not offer as many options for segmentation.
Product Recommender
The product recommendations feature enables you to display relevant products to your recipients, which can help with cross-selling and upselling. We found it easy to use and appreciated the ability to send recommendations based on either all purchases made in your store or an individual customer's purchase history.
Ecommerce Marketing Automation with GetResponse
In addition to the crucial abandoned cart automation feature, GetResponse offers a variety of pre-designed ecommerce automation templates for users to utilize. These templates allow users to target customers with personalized offers based on their tags, promote courses or products, and reward loyal customers based on their level of engagement.
After comparing various email marketing platforms, we determined that Getresponse stood out as a top choice for marketing automation due to its comprehensive list management capabilities and additional features such as a landing page builder and webinar software.
Conversion Funnel
GetResponse offers a wide range of features that allow you to create comprehensive sales funnels. The platform even has a section called "Conversion Funnel" where you can find more than 30 pre-designed scenarios for optimizing conversions. These scenarios can be used for various purposes, such as selling products, building email lists, promoting offers and events, and more. As an example, a sales funnel can be used to sell a product by guiding potential customers through a series of steps, such as presenting an offer, collecting contact information, and completing a purchase.
On the conversion funnel dashboard, there is a section titled "Lead Magnets" which serves as a way to provide a free resource for visitors to obtain through a signup page. As an example, we offer a free guide on email marketing for beginners on our blog.
GetResponse offers a collection of pre-made downloadable assets that you can use for lead magnets, so you don't have to create any content on your own. However, it is recommended that you customize the provided content to fit your business. The available content primarily focuses on digital marketing, which may not be relevant for everyone.
This is a useful feature exclusive to GetResponse, and it is available on the Email Marketing plan, which is the lower-tier option. If you want to build complete sales funnels, you will need to upgrade to the Marketing Automation plan or a higher tier.
GetResponse's Autoresponders
GetResponse's Autoresponder is a feature included in their Email Marketing plan. This tool allows you to automate your email responses to increase user engagement. You can set up Autoresponders for various purposes, such as sending a confirmation email to new subscribers or offering discounts and product promotions to follow-up on marketing emails. These can be triggered by actions like sign-ups, clicks, sales, birthdays, etc. or by time-based responses, like sending a "Thank You" email on the first day of a subscription and scheduling newsletters with special offers or discount codes a few days later. This can be set up as part of a sequence to automatically send these emails to each user. However, you cannot set up event-based or product automations or send abandoned cart emails. These features are only available with higher-tier plans.
Abandoned Cart
GetResponse has added a new feature called "abandoned carts" to its marketing automation workflow options. This allows you to identify contacts who have left items in their online shopping carts without completing their purchase and send them automated messages with promotional codes to encourage them to make a purchase. You can also include discount codes in your welcome emails to new contacts and use them to reward your loyal customers.
GetResponse Mobile App
The GetResponse email marketing app is incredibly user-friendly and extremely helpful for those in the email marketing and eCommerce industries who are constantly on the move. With their mobile app, you can easily monitor the success of your email campaigns by accessing basic statistics like open and click-through rates.
The app also offers a range of contact management features, including the ability to track the growth of your subscriber list, view subscriber locations, edit contact information, add new contacts, manage user tags, and more.
In addition to these email marketing tools, the app allows you to create newsletters and send them directly from the app, whether by duplicating an existing message or creating a new plain text email. You can also manage ecommerce tools and statistics, such as product sales, orders, and revenue.
Conclusion
This GetResponse review highlights the effectiveness of this marketing software, which successfully offers both useful features and user-friendly functionality that other newsletter tools often lack. We also appreciated the efficient list management automation tools and customizable automation workflows. While the editor may be somewhat difficult to navigate for certain tasks, the responsive templates still allow for effective newsletter creation. Additionally, the availability of an iOS and Android app allows for convenient tracking, newsletter sending, and live chat responses on the go. With its comprehensive list of features, including landing pages and webinars, GetResponse performs well in most areas, although an improvement in deliverability rates would be welcomed. Overall, GetResponse is a versatile tool for small business email marketing needs. We are also pleased to see that a free forever plan has been added to their options.